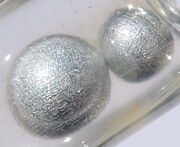 Potassium

Identification

Symbol

K

Block

s-block

Group

Group 1

Period

Period 4

Atomic Information

Atomic Number

19

Atomic Radius

227 pm

Mass

39.09

Category

Standard state(298 K)

Solid

Electronic Configuration

[Ar]4s1

Unknown

Unknown

First ionisation energy

Unknown

Physical Properties

Color

Silvery-White

Melting Point

336.7 K

Boiling Point

1032 K

Density of solid

Unknown

Unknown

Heat Properties

Enthalpy of fusion

Unknown

Enthalpy of atomisation

Unknown

Enthalpy of vaporisation

Unknown

Potassium is the 19th element in the periodic table according to its atomic number. It belongs to the Alkali metal's category and is highly reactive. Elemental potassium is soft, silver-white and oxidizes rapidly in air and is very reactive with water, which generates sufficient heat to ignite the hydrogen produced in the reaction(causing further heavy reaction). It burns with a Lilac coloured flame. Due to its high reactivity , potassium is usually kept stored in parrafin /kerosene oil. 
Discovery

Edit
The text in this section is similar to a Wikipedia article but revised.
The English name for the element potassium comes from the word "potash" which refers to the plant ashes. Potash primarily consists of Potassium as plant ashes have almost no sodium content. While potash has been used since ancient times, it was not understood for most of its history to be a fundamentally different substance from sodium mineral salts. Georg Ernst Stahl obtained experimental evidence that led him to suggest the fundamental difference of sodium and potassium salts in 1702, and Henri Louis Duhamel du Monceau was able to prove this difference in 1736. The exact chemical composition of potassium and sodium compounds, and the status as chemical element of potassium and sodium, was not known then. Potassium metal was first isolated in 1807 in England by Sir Humphry Davy, who derived it from caustic potash (KOH) by the use of electrolysis of the molten salt with the newly discovered voltaic pile. Potassium was the first metal that was isolated by electrolysis.
Periodic Table
Edit